Preparation and Modification of package leaflets and other printed material
For creating or editing leaflets or other pharmaceutical print material, you need a competent partner who understands the text content and ensures a smooth implementation.
Our many years of experience in the field of DRA and pharmaceutical proofreading allow us, together with our graphic designers, to create artworks without requiring excessive revision loops and support you in every phase of the approval process.
We support you all the way from mock-up to final approval.
Create open spaces
Create free space and save yourself from incorporation of corrections into existing print templates.
The handling and evaluation of pharmaceutical texts from the various approval procedures is a matter of course for us. Therefore, it is easy for us to implement your text content straight and without correction instructions.
Processes and Quality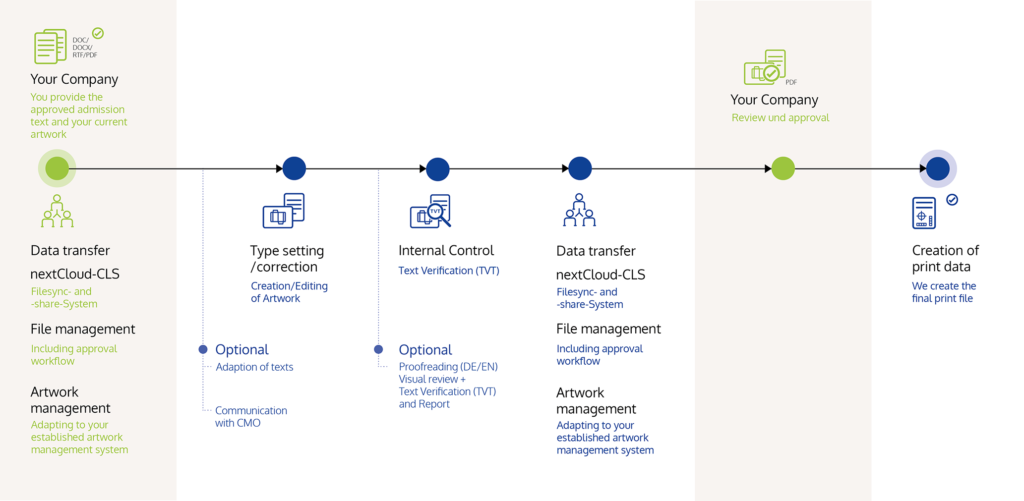 Dealing with process descriptions and regulations is a matter of course through our quality management system ISO 9001:2015.
The internal quality control is carried out on the basis of years of proofreading experience with dual control principle and additionally through the use of the TextVerificationTool of the company Schlafender Hase. A back-up solution ensures that everything runs smoothly.
We can integrate ourselves into your artwork management system. Alternatively, we offer a file share and sync system to ensure secure data exchange.